TESTIMONIALS FROM HOUSE CONCERT HOSTS
"Danny Brooks is the consummate performer. He is gutsy and gritty and sings from the fire in his belly. From the first note he had our audience captivated and from then on had the full-to-capacity crowd rocking right along. His stories were riveting and inspiring. The chemistry and banter between Danny and Debbie was engaging and fun. The best thing about Danny and Deb is that they are real, have seen a lot of life and its ups and downs and have come out on the other side with songs of their journey to redemption."
Charlie and Karen Morand - Stop 26 House Concert Series Windsor, Ontario.
"To Know Danny is to love Danny but out of the 30 or so house guests who came to see him in concert, only a handful had heard him play before or even knew what to expect. Dressed in his funereal looking black coat and vest, his long hair flowing out past his shoulders, his face slightly obscured by his requisite black hat and dark shades, Danny's look is austere, even intimidating, that is until he offers up that big smile of his and then his warmth lights up a room. A huge hand carved wooden cross completes his outfit and it's not a prop but the outward evidence of his inner beliefs. God is Good and his Will be done!
A true performer, a natural troubadour and story teller,
Danny
's gritty chains over gravel voice takes you on a compelling musical journey of a tough hard won life, a life where God gave
Danny
an amazing talent and many roads to choose from. He didn't always choose right, but his compass has brought him back to himself, his family and his music has never been better. He is a huge presence in a small body and every single one of my guests was blown away by their up close experience with this powerhouse of energy and love.

Invite
Danny
and
Debi
into your home for a house concert, invite the band into your bar or venue for a rousing great time- whatever you need,
Danny
will deliver, whether its blues, rock , gospel or Texassippi soul!"
Frankie Picasso-author Midlife Mojo
""Smokin'!" is not quite sufficient a word to describe when
Danny Brooks
and his Toronto Band played together for the first time in over a year at our street party fundraiser in Oakville, Ontario Canada this summer. What a thrill to see and hear these fantastic, seasoned musicians truly enjoy each others' company and play off each others' passionate talent! "Holy Smokin'!" "Crazy, awesome Smokin'!" Let's say it was over the top fantastic! Can't wait to hear them again."
Michelle Sim Solid Gold Foundations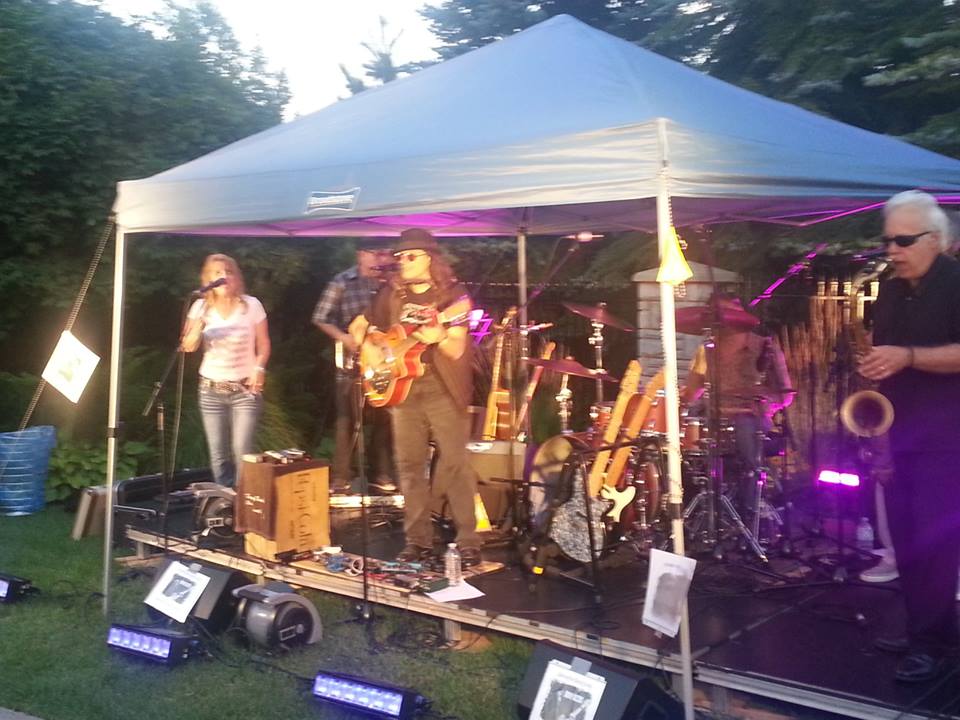 DANNY BROOKS HOUSE CONCERT:
House concerts play an important role in the touring artist's life. There are some geographic areas where it is hard to find a venue to perform. There are times when the artist's travel plans take them through an area with lots of friends and fans, but not on a Friday or Saturday when most venues present music. And there are some groups of people who would like to hear the artist away from the clatter of a dining room or the hiss of espresso machines. The house concert is a great answer to all of these situations. Lots of good things come out of a house concert. For the performer, it's a chance to do his/her thing in a friendly "listening environment" and to earn some money to keep on touring. For the audience, it's a chance to get a little closer to the performer and the songs.
HOW TO PUT ON THE PERFECT HOUSE CONCERT:
They are dirt simple to organize, cheap to produce and virtually fail-safe. You are pretty much guaranteed a packed house, a great atmosphere and, for the performer, a decent wage. The key to success is this: a house concert is a gathering of friends; only secondarily is it a show for the general public. When you invite friends to a party, 30 or even more will come, right? So it is with a house concert. Yes, strangers are welcome but they are the icing, not the cake. The performer can walk away with anywhere from $300 to over $1000.
NUMBERS AND SPACE:
Minimum of 20-30 and higher. The basic ingredients for a house concert are: a) 25 + people and b) a place for them to sit comfortably and enjoy the performance (you'd be amazed how many people can fit in an average sized room!) The actual size of the room will pretty much determine the potential audience. A good rule of thumb is 3 square feet per person. Your living room is too small? Remember the sponsor and the host need not be the same person. It is a long-standing and sensible tradition to guilt-trip a wealthier friend with a big living room into offering it for the occasion. Do not feel badly about this, but rather, think of it as a favor. There are several ways to seat 40 people in a living room. Ask everyone to bring a folding chair or a cushion; borrow stacking chairs from a church or union hall. Sitting on the floor for an hour (with cushions) can be done in relative comfort. In fact it can feel kind of good, psychologically.
MONEY:
The amount of money the performer needs to make can change depending on the day of the week. Hosts charge an admission fee (usually $10 to $20). $300 to $400 is a pretty fair base rate for a solo musician on a quiet night, and that breaks down to only $10 or $15 per person for 15 couples. Convincing 15 friends to come (with a partner or guest) is not a big deal. You know best what price is suitable for your friends. But don't skimp. Be comfortable charging $15 or "whatever you can afford." An "earlybird" price is recommended, expiring a week or two before the show. Say $15 for the early bird, $20 after that. Add a few more people, or a few bucks to the ticket price, stir in record sales, and the gig quickly moves from subsistence to downright profitable. Remember, one of the main reasons for a house concert is that there are no hall costs. Or, often enough, any costs at all. When it comes to disposing of the proceeds, various arrangements are possible. Many sponsors will give performers the full door. Some take out expenses for the coffee, etc. But bear in mind: a house concert is something that is sponsored for love not money. That is part of the charm, part of what makes it personal, part of the reason friends will come even though they have never heard of the performer.
TICKETS:
Should there be printed tickets? A reservation list? RSVPs? This is a judgment call for the host to make. Advance ticket requests and/or (preferably) pre-paid reservations are advisable for several reasons: People who have already bought tickets don't change their minds at the last minute. The best advertisement is someone who has already bought a ticket. *You have somewhat of an idea of numbers.
GETTING PEOPLE OUT:
Although the house concert host will tell his/her e-mail list about the event, the "public" doesn't usually come to house concerts. The newspapers usually don't run information about house concerts, posters only work in specific cases, etc. The attendance basically depends on the host.
PROMOTION:
Promote the event in the same personal way you would any celebration/event you have decided to host at your home. Whether you phone people or send written invitations, the personal contact is crucial. If you want to advertise (whether by a poster at the office, a note in a newsletter, or an announcement in the press) that is grand, and the resulting extra sales are a bonus; but the friends you invite yourself must fill most of the seats. DO REMEMBER THAT IT IS A CONCERT AND, THEREFORE, A LISTENING EVENT! You should also encourage your guests to bring money to purchase cds...it is a great chance to get it autographed by the artist. Most performers have friends and fans most everywhere. Just spread the word! *Performers can (and should) provide promo material, including graphics, poster art and a write-up the sponsor can send out or draw on. To increase the warmth and appeal of the event, invite people to bring a plate of finger food and/or a bottle.
ACCOMMODATION:
Remember that the performer is on tour and appreciates the offer of accommodation to help avoid the cost of a hotel while on the road. It could be your home or someone you know who would be willing to offer theirs. A meal is always a nice touch and provides a social opportunity for you to get to know the human side of the performer.
AND FINALLY
...
House Concerts build strong friendships between musicians, presenters, and listeners. Most importantly, House Concerts provide the most intimate and compelling performance environment available. They are as different as the personality and inclinations of the host. Here's your chance to shine!
CONTACT DANNY BROOKS FOR YOUR HOUSE CONCERT TODAY!